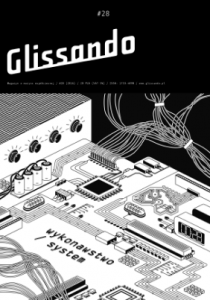 Glissando 28 / 2015

Performance of Contemporary Music / The System

PL
Performance of Contemporary Music
Taking the System as our joint point of departure in the first section of the issue we focus on the performance of contemporary music in historical, theoretical, and practical perspectives.
The first contemporary music ensembles emerged at the time when the first ensembles devoted to historically informed performance were also being formed. Although numerous theoretical and critical works explore the history and aesthetics of historically informed performance, contemporary music performance seems to be under-examined both in Poland and Central and Eastern Europe. There is a lack of criteria allowing one to estimate the actual input the performer brings into the new musical piece. At the same time the critique of contemporary music gives more prominence to the composer, while the role of the performer remains under-emphasized.
We propose papers concerning the performance of contemporary music regarding both new music compositions and improvised performance, touching upon both practical aspects and music criticism, presenting historical, contemporary, and future perspectives. We present essays dealing with both Polish and foreign experience as well as specific performers, composers or musical works.
The System
The second section of the issue is devoted to the system of avant-garde music institutions (funders, festivals, curators, managers). We investigate how the resources for contemporary, experimental, and improvised music are distributed in different countries and (sub)systems (commissions, scholarships, grants for music projects, royalties, sponsorship, festivals). We were especially interested in papers looking behind the scenes of the new music market: where are its centers, what are its governing rules, who are its rulers and participants, who is excluded and why, what are its abuses.
At the same time we draw a map of institutions supporting the new music scene especially "non-musical" ones, such as galleries, contemporary art centers, and theaters, which frequently – more often even than the institutions dedicated to its support – engage in avant-garde musical projects.
It is obvious that music is the most non-material of all the arts. This time, we would like to take a look at its economic, institutional, systemic, and material contexts.