Art processes can't hide anymore in their lovely, protected tower – an interview with Julien Ottavi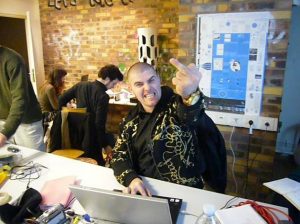 Piotr Tkacz: How have you began making music and what made you interested in music in the first place?
Julien Ottavi: I began making music with radio works and drumming.
I was interested in music as a fan when I was doing a radio show and a fanzine in the early nineties. My interest in music was at the beginning, when I was 15 years old, only a matter of feelings and nothing was really pre-organized.
Could you tell us a little bit about your education and how it influenced your artistic practice?
I received a MA in art, specialization in sound, composition and computer music from  ERBAN (Nantes) in 2002. I had training in real-time interaction and psycho-acoustics at IRCAM in 2001. Between 1998 and 2001 I studied musique concrète under Yann Le Ru tutelage also at ERBAN. In 2000 I received DNAP (which equals BA in art) at the same school. Earlier, in 1996, I obtained economy & social sciences baccalaureate (A level). I began with drums and percussion lessons in Tours in 1995.
Of course, drumming classes, musique concrète composition and art school had a huge influence on my artistic practice. Especially in art school I explored some of the musical and visual practices, mainly in terms of critical feedback, as I was already in a self-learning process. I was far beyond my tutors in terms of music, sound art, sound poetry, types of knowledge and practices… they used to ask me to teach the others about it.
You continue with teaching or spreading the knowledge in general. You organize a lot of events, workshops and so on. Do you find those activities important? And if so – why, what are the benefits and what problems do you have to face while doing it?
For the last 10 years I organized and suggested doing many workshops, teachings, shared various kinds of knowledge about art, technologies via free software, open hardware, all sorts of DIY electronics, urban intervention and so on. Those actions are very important for me first as a self-learner still in process of learning from the others. Furthermore it is valuable for the community in order to spread ideas and share contents. But it is also very efficient way to exchange with other artists and the public the relations between art and technologies. Art processes can't hide anymore in their lovely, protected tower. They needs to confront themselves with our modern realities. The benefits are numerous, such as discovering new things, meeting new people, exchanging on different subjects, freeing myself and my work from pre-conceived ideas and pre-made and controlled technologies. The problems that I can face are frustrated people who will abuse the trust implied by the relations of sharing your knowledge. But those people would be frustrated anywhere anytime with any other human activity. Besides, there are isolated difficulties. The real problem we could face is violence imposed upon us by industrial-militaro-politician to consume certain goods, foods, to follow certain rules or education that fits minority views. In these everyday actions that I organize with others, I always face the limits of the norm established by this machine of power and therefore the consequences have impact on people behavior, and enclosed relations to each others. A lot of work needs to be done to open people minds and change our habits that we learned almost from the day we were born!
What's the story of Formanex, is this project still active?
Formanex is an electronic music ensemble, started in 1998, they play mainly around graphical score or new music compositions. They have played Treatise of Cornelius Cardew for 10 years, introduced by Keith Rowe.
Formanex came back to its original line up after we invited other musicians such as Christophe Havard, Laurent Dailleau to be part of the ensemble. So it's now Anthony Taillard, Emmanuel Leduc and me.
Formanex could be considered as a trio but possibly as a larger ensemble, depending on the score or the composition we have to play.
We are actually very active as we had a couple of concerts and releases within last 2-3 years. We also asked some composers to write scores, pieces for us, such as Kasper Toeplitz, Keith Rowe, Seth Cluett and Phill Niblock. We are preparing a release of those new works.
A few years ago you began a new project, The Noiser. How does it differ from your previous works? In general, do you find a notion of progress useful when describing artistic activities – is it important for you to develop and reach new grounds? 
I had created a lot of "aka" and other names in my work, this is part of my thinking and work around the notion of authorship and collective. The Noiser is an alter-ego that embrace some of my project especially those that are in relation with some others one-man-band or alter-ego name such as KKNULL, Z'EV and so on. I don't think this work is so different from previous work. Maybe it is a question of branding as Z'EV but for me it's more like a game with authorship and relation with the concept of individualization in relation to the idea of group, collective and our effort to identify and understand everything that is not attached to individual. This way of dealing with names is also to change somehow my point of view from my own self. In a long run it will be interesting to have a name per project or even per concert or release… to be continued.
What are the limitations of electronic music, especially the kind pursued by you, and what are the possibilities of overcoming them?
In itself electronic music doesn't have much limitations as other type of music or human activities. I wrote an article many years ago about this subject, on this idea that electronic music doesn't really mean anything and that the question was more about the use of the electronics in music. We are doing music with electronics instruments instead of classical instruments, the shift was conceptualized strongly by the Futurists and developed by numerous musicians and composers for the last 100 years. At some point in my work and musical research I could say that the limitations of the use of electronics in my music, more precisely or more directly, the use of computers would have been the lost of the body in the relations of the musical action. But that's not true as I use voice, shout, sound poetry, percussions and different ways to play with computers that demand a high level of body activities. I think we should see the electronics and computer as what it is, an extension of our body and environment, even though it is taking more and more space in our everyday life activities against some other possibilities. In our case, overcoming a potential limitations will be to get rid of any technologies as such, from classical instruments (piano is a very advanced technology that requires a lot knowledge and care) to find the direct path to empowerment of the people through music.
Thanks to Maciej Janasik for his help.